This item is Made To Order only. Minimums & lead times will apply. Please inquire for specific quotes.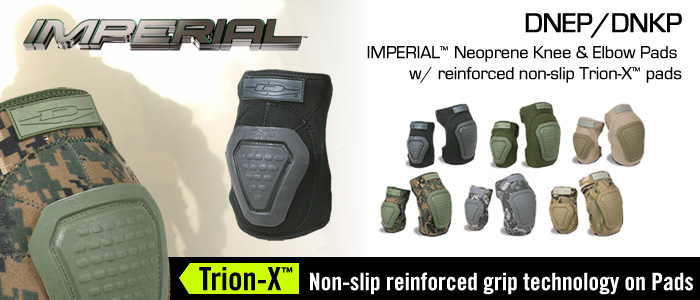 Imperial? Neoprene Knee & Elbow Pads w/ reinforced caps
Created by Damascus Protective Gear®, leaders in full body protective gear for law enforcement, military, etc. The Imperial? Neoprene Knee & Elbow Pads provide a unique adjustment system allowing for a very secure fit. High-density closed-cell foam with the neoprene outer shell provides for its extremely comfortable and silent design. The increased grip and durability of these pads is provided by the Damascus Trion-X? textured non-slip grip surface technology. Sold as a pair. Available colors and camouflage prints include: Black, OD Green, and MulltiCam® Camo. Coyote Tan, Digital Woodland Camo and ACU Digital Camo are available by special order.
• Stealthy durable neoprene outer shell with reinforced stitching throughout
• Silent and form fitting
• Trion-X? Non-slip reinforced grip technology on pads for maximum durability
• Shock absorbing 10mm foam, plus a second layer of polyurethane foam for max comfort
• Multiple adjustable elastic straps and Velcro® closures for secure fit
• Can be worn inside or outside
• One size fits all
Colors and Styles:
Knee Pads
#DNKP-DW (Digital Woodland Camo) Made To Order Only
#DNKP-A (ACU Digital Camo) Made To Order Only
#DNKP-T (Coyote Tan) Made To Order Only
Elbow Pads
#DNEP-DW (Digital Woodland Camo) Made To Order Only
#DNEP-A (ACU Digital Camo) Made To Order Only
#DNEP-T (Coyote Tan) Made To Order Only